Week of March 29, 2021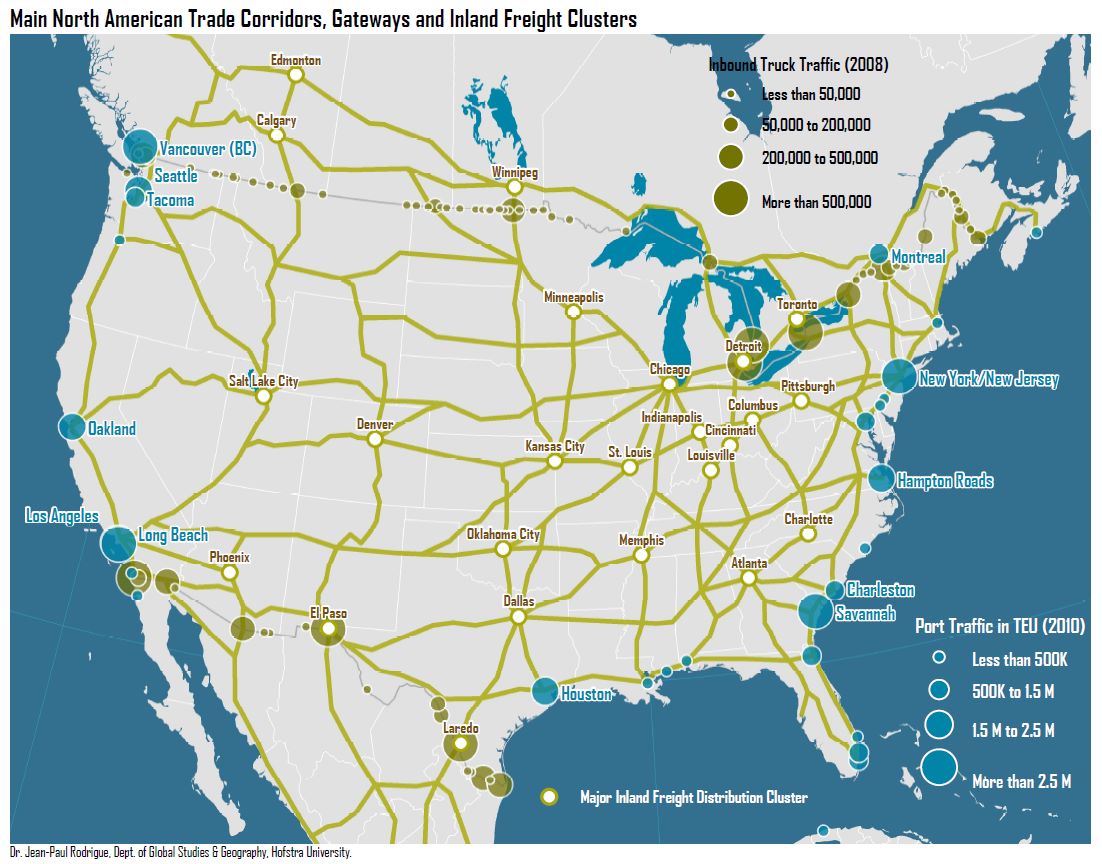 Difficult Decisions and Industrial Space Markets
The two strongest forces in the industrial real estate markets come from insatiable capital and logistics engineering. In this commentary, I'll review why logistics, supply chain, and transport will lead the way in the post-covid recovery. Industrial real estate is an investment safe haven, but its actual purpose for moving and making goods will take precedence in industrial space markets.
Using Los Angeles as an example, there are tremendous inefficiencies in the way industrial goods are moved from ports to the rest of the country. Inadequate freight infrastructure and a lack of space are causing external spillovers, delays, and unintended effects throughout Southern California. Put simply, because there are space shortages for goods and yards to park trucks/containers, port associated operations have spread to a 100-mile region and in some cases, as far as Phoenix, Las Vegas, and Reno. In response to some of the adverse effects, many local municipalities have become more restrictive when it comes to allowing freight related uses, further exacerbating supply conditions.
There are many other reasons why supply chain is a critical challenge to the U.S. recovery. Re-shoring, resiliency, automation, self-sufficiency, and economic competition are a few underlying causes. Taken together, the nation's manufacturing and distribution networks are coming under enormous strain that has no immediate solution except for shrewd market actions by individuals.
The implication for industrial markets is clear on the capital side. Capital is rushing in from both old and new players to garner financial return. Still not widely recognized, is what these infrastructure pressures have on the industrial user. While many businesses have been struggling with the Covid recession, they have not yet realized space is in short supply. On the other hand, many "first-movers" have already secured valuable spots along the supply chain where they can collect fees and rents for being at a strategic crossroads. It could be a container yard, a logistics hub, or a centrally located warehouse, but the important point is these users, by securing a valuable location, are rewarded with increasing revenues.
Coming out of Covid, businesses who seize and control valuable industrial real estate will have a strategic advantage over their competition. Scarce availabilities will require users to take steps they may find distasteful. This includes overpaying, signing longer leases, and taking buildings with some functional obsolescence. Each alternative, as unfortunate as it may seem, is better than being left without.  In addition, tight conditions require market agents with experience, relationships, and knowledge.
The U.S. is undergoing a long waited industrial metamorphosis that is at an early stage. Capital has taken a long lead and now owns many of the best locations. Users are only starting to realize if they want to grow their business, they will have to pay higher rents or make relocation decisions where costs are more moderate. In either case, securing space will be a critical activity for business requiring dexterity and skill to navigate complex markets.